Battery Enersys NP 7-12 WT FR
Unit #: MWP-C-00132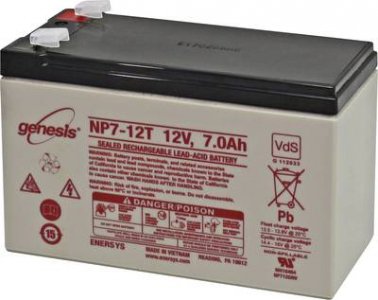 The Enersys NP 7-12 WT FR battery has exceptional performance with VDS certifications for optimal operation of your wind turbine.
This battery offers high energy density, low self-discharge, resistance to cycles and high tolerance to temperature variations.
Made from 99.99% pure lead / tin with super thin plates for maximum performance and reliability.
Pure acid is safely concentrated in the textile and ensures efficient operation.
The robust housing is shock and vibration resistant and flame retardant.