Mobil Univis N 32 Oil 20L
Unit #: MWP-C-00485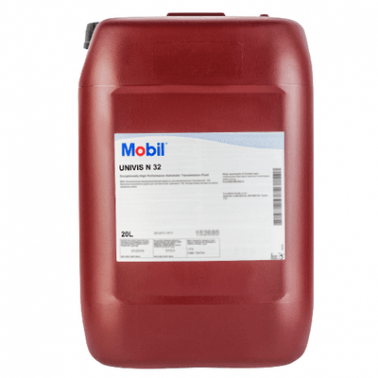 Mobil Univis N 32 oil ensures high performance for your wind turbine equipment.
Univis N series oils are high performance anti-wear hydraulic oils designed to meet the requirements of a variety of hydraulic equipment. These products exhibit high viscosity indices contributing to their excellent high and low temperature properties, making them an excellent choice for equipment subjected to a wide variety of starting and operating temperatures.
The Univis N series are formulated with good shear stability allowing their use under high pressure and high temperature service conditions over a long period of time. They provide long oil and filter life, as well as optimum equipment protection for low maintenance and low disposal costs.
Univis N oils are formulated with selected high-quality base oils and a carefully chosen additive system to provide very good anti-wear properties, protection against rust and corrosion, good demulsibility, resistance to water. oxidation, good resistance to foaming and rapid deaeration. They are designed to work under moderate conditions where a high level of anti-wear is required.